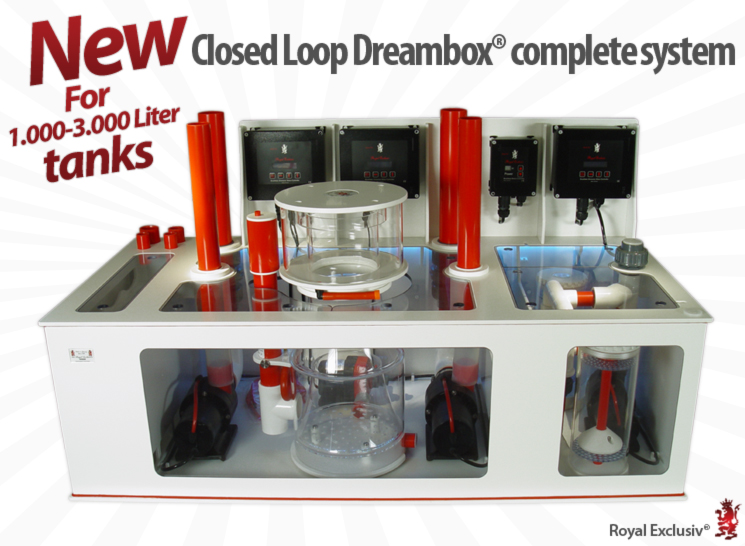 Now, also our Dreambox« available as Closed Loop complete system. On stock and deliverable immediately!
---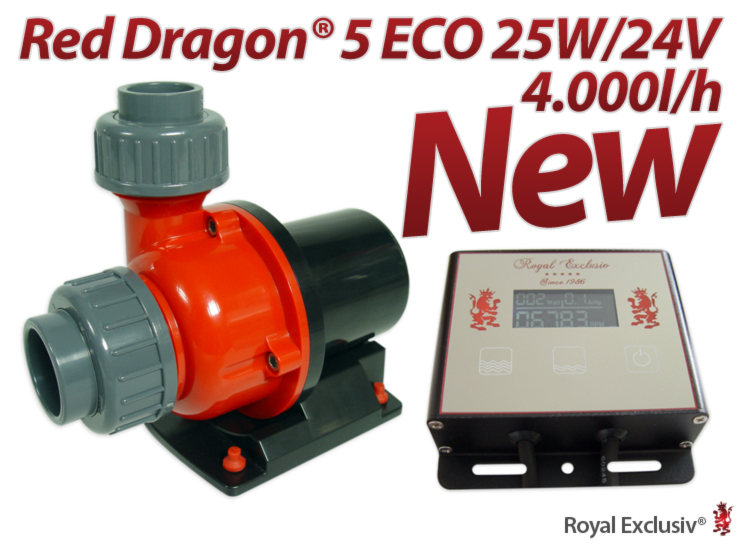 We are really proud to release our newest pump model, the Red Dragon« 5 ECO with 25W / 4m3 .
This adjustable 24V DC (direct current) pump is available right now and enriches our existing pump families.
---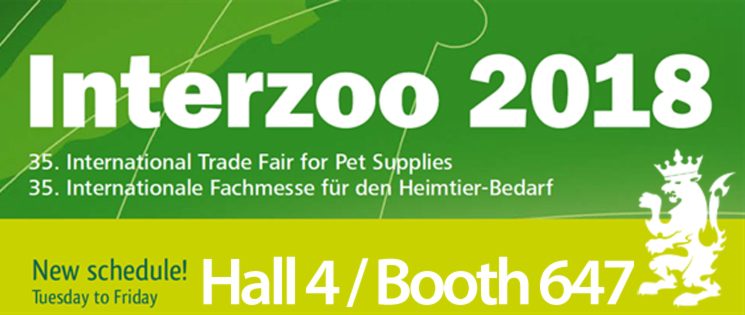 We're finally back at the INTERZOO 2018 in Nuremberg.
Join us at Hall 4 / Booth 647 ////// 8. - 11. May 2018
---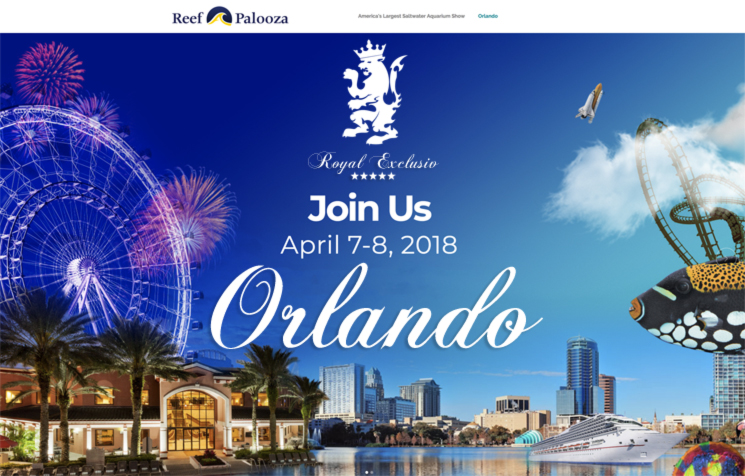 Also this year we have a booth at the Reef A Palooza in Orlando, USA. Visit us!
---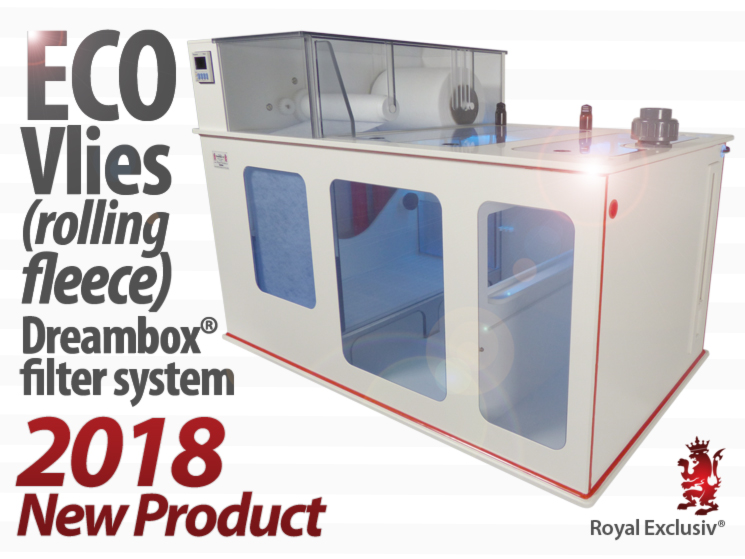 ---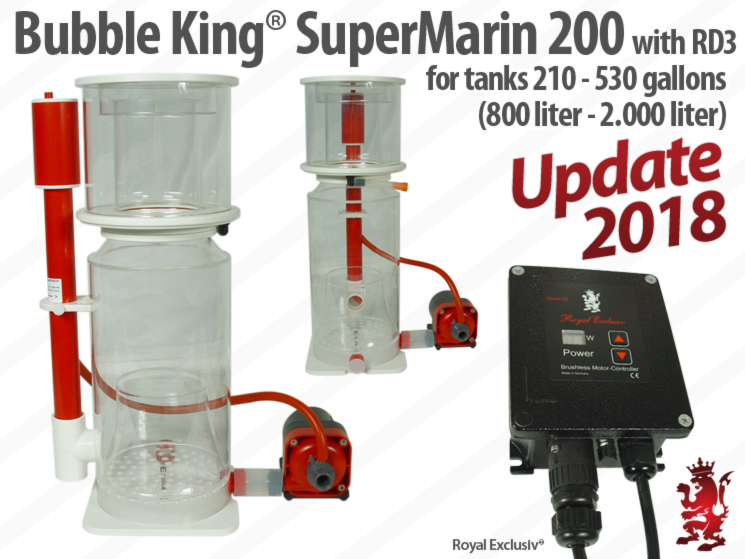 Our Bubble King« SuperMarin 200 received a Facelift! As of now, all Red Dragon« 3 skimmer pumps will be delivered with
prepared 10V connection and removable Hirschmann-plug-connection. On stock and deliverable immediately!
---

Due to legal changes in the payment procedure for online shops, all payment methods at our shop will be offered without any additional fees
from 12nd January onwards. Another reason for these changes in our pricing are the recently increased price lists of our suppliers. We will use this opportunity to further increase our efforts to improve our products and services at Royal Exclusiv«.
---


Also this year we are at the Reef-A-Palooza in Orlando, join us. Here is the floorplan.
---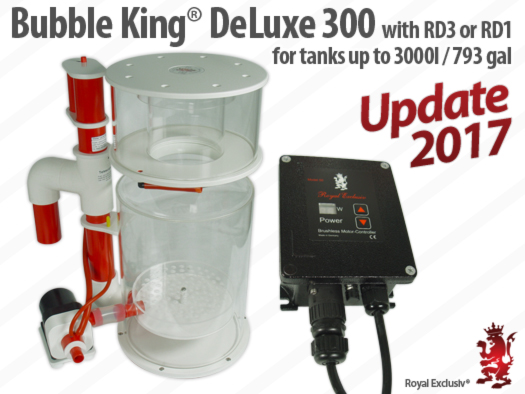 Our best selling Bubble King« DeLuxe 300 skimmer has gotten an update. Details in the appearance/design have been improved and optimized the skimming performance.
---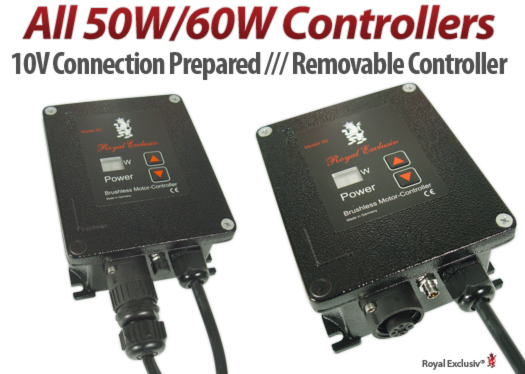 Now, all 50W/60W Red Dragon« 3 MiniSpeedy pumps available with a prepared 10V connection and a removable Hirschmann-plug. (skimmer- and return-pumps) Only a Interface-Adapter is needed for controlling by aquacontroller/computer.
---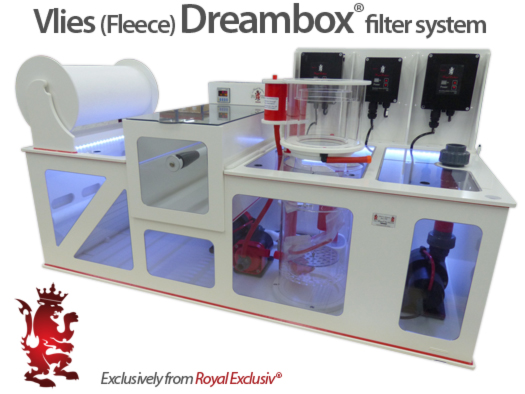 We are really proud to introduce our new Vlies (Fleece)-Dreambox-Filter, after a longterm test- and developing phase. Complete systems are available, now.
---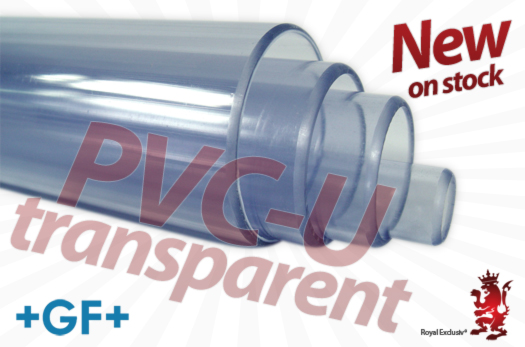 The product range becomes bigger and bigger. Now, PVC-pipes in transparent from Georg Fischer in all usual sizes on stock.
---
We want to introduce our new AutoSwitch ON-OFF.
Ideal for controlling and monitoring of Water-levels at sumps, with delay release.
---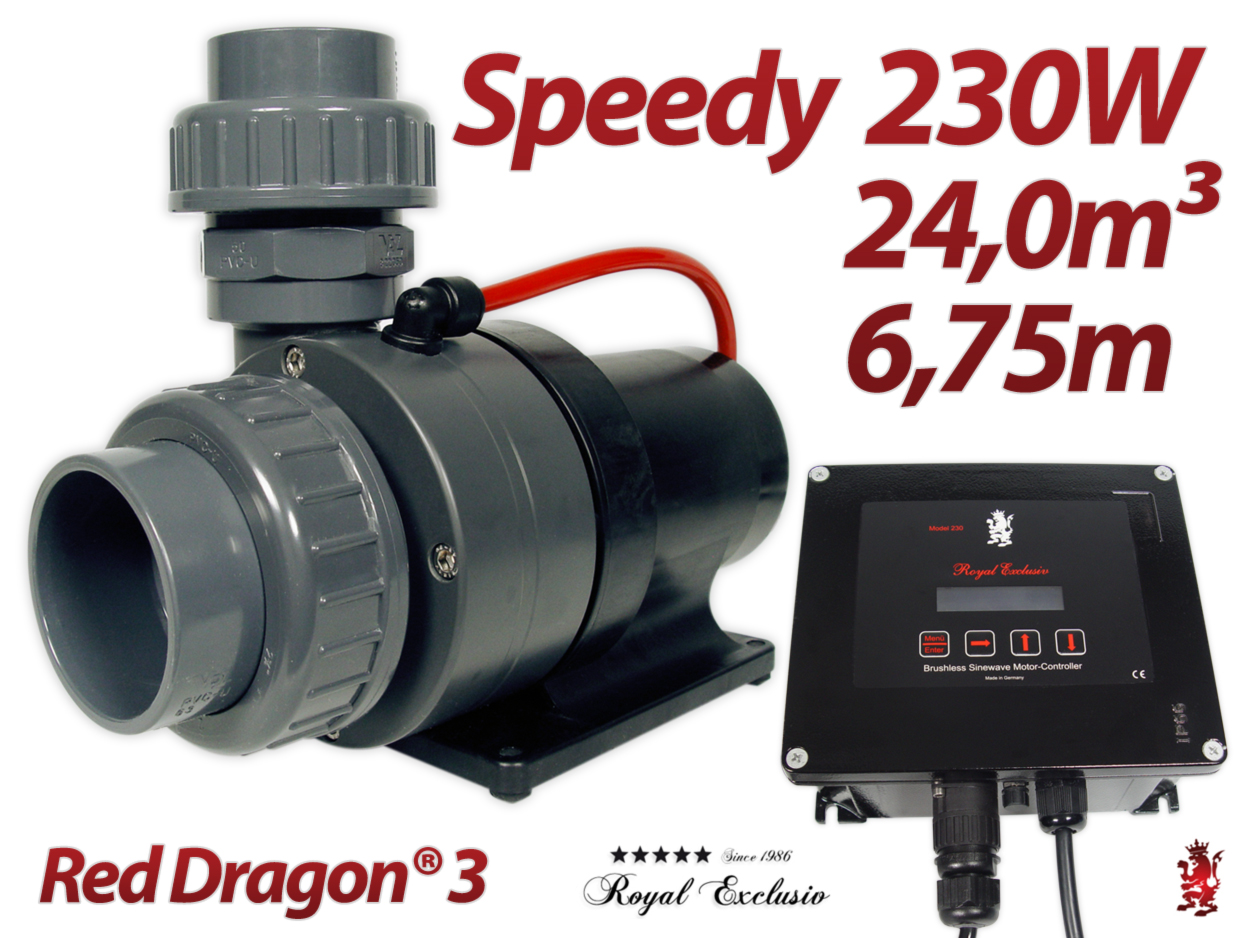 We have to inform that our Red Dragon« 3 Speedy with 230W is more powerful than expected.
Our new test-bed and some dealers has confirmed that we reach a volume flow of 24.200l/h with this pump!
---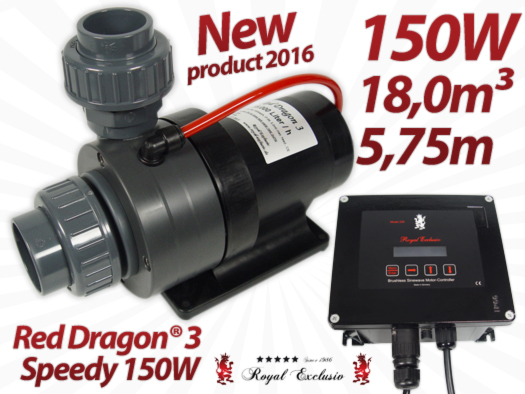 Finally the Red Dragon« 3 Speedy with 150W is available. Go to the product!
---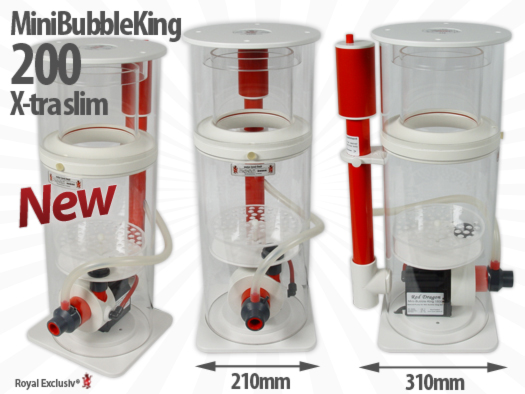 Finally also the Mini Bubble King 200 VS12 available as extra-slim-version! Go to the product!
---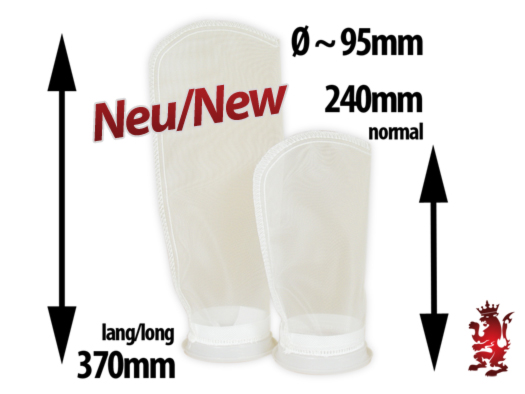 Now, our Filter socks are in long available!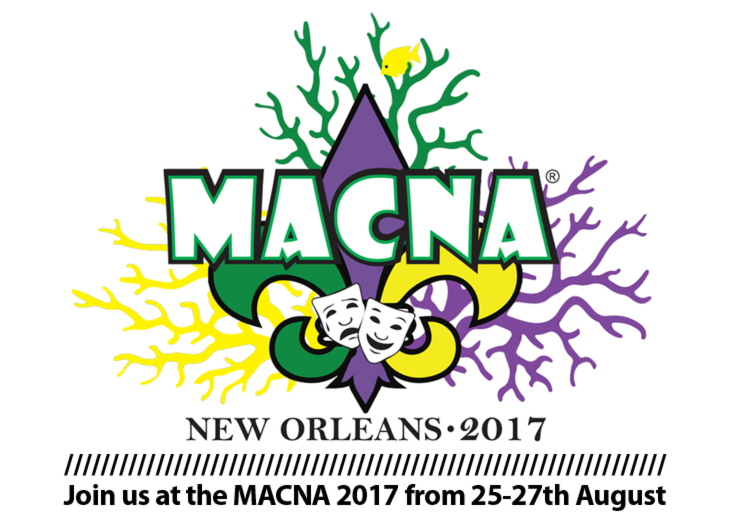 Also this year Royal Exclusiv USA at the MACNA 2017 in New Orleans. Here is the Floor Plan.
Come and join us from 25th till 27th August 2017!
---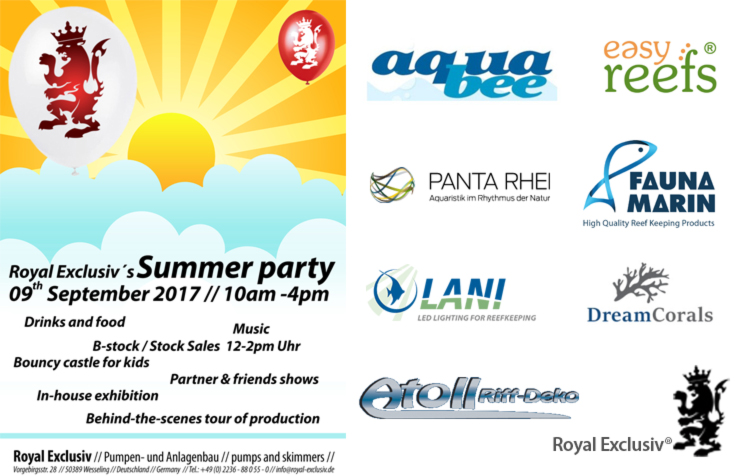 The list of the friends and partners, which having an own booth at Royal Exclusiv pumps & skimmers SUMMER-PARTY is almost complete:
Aquabee Aquarientechnik - Atoll Riff Deko - DreamCorals/(Aqua Marin Supply bvba (AMS), manufacturer Kalkreaktor DaStaCo)
- Easyreefs - Fauna Marin GmbH - LANI: LED lighting - Panta Rhei
Join us and don´t miss this event. 9th September!
---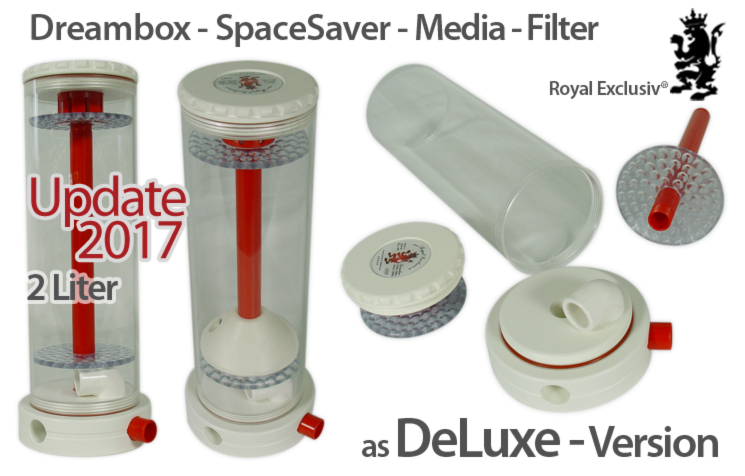 Out now, our new 2 liter Media-Filter / Pellet-Filter also as DeLuxe version. Complete demountable, 20mm connection.
---


Our new product-portfolio 2017 is in the print right now. Here you could download the .pdf.
---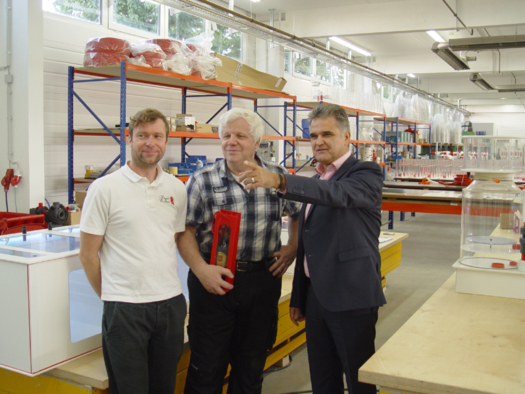 The Mayor Erwin Esser has officially welcomed us in Wessling!
---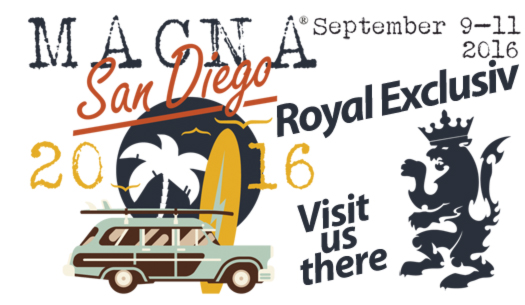 Visit us at the Macna 2016 in San Diego!
---
Please note: We are moving from 18th July to 5th August 2016!
New address: Vorgebirgsstr. 28, 50389 Wesseling
---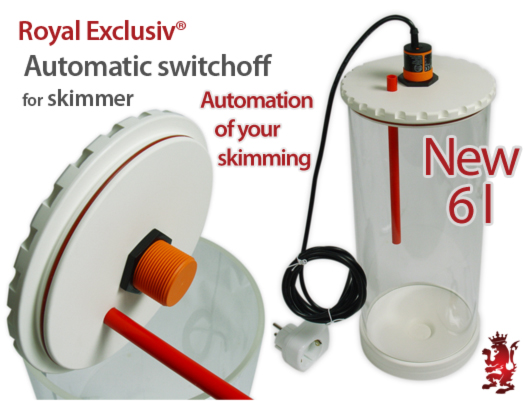 We have modified our Overflow-stopper for more volume!
---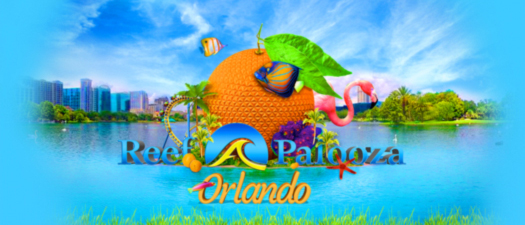 Meet RE at the Reefapaloozashow in Orlando / FL!
---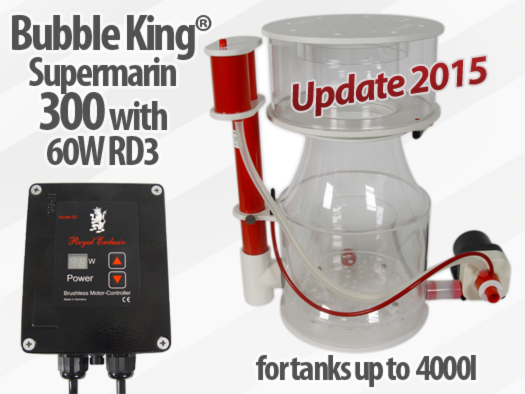 Also the new Bubble King« SuperMarin 300 Version 2015 with only one adjustable 60W RD3 skimmer-pump is available. The RD3 is standard equipped with a 10V connection.
---
Visit us at the MACNA in Washington DC! Here is the floorplan! We have booth 707.
---

We are very proud to announce that we have a new member at RE's US-Team! Scott Leif is an absolute expert in our products and most of all saltwater aquarists will know him from his great activities at "Reef Central".

As the responsible for our West-Coast Depot at Chatsworth, California. Scott will take care for the coming up "Royal Exclusiv" board at "Reef Central" and also for our customer and technical support in the US.

Thanks for joining us, Scott and WELCOME AT RE
---
---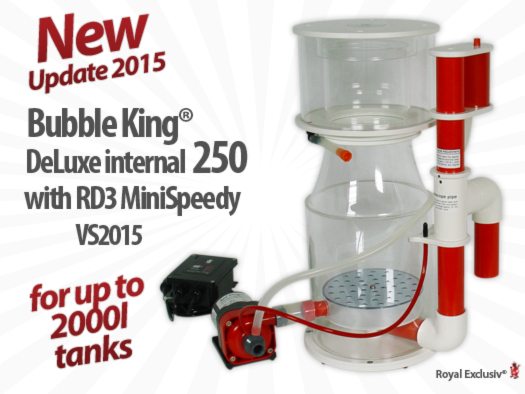 ---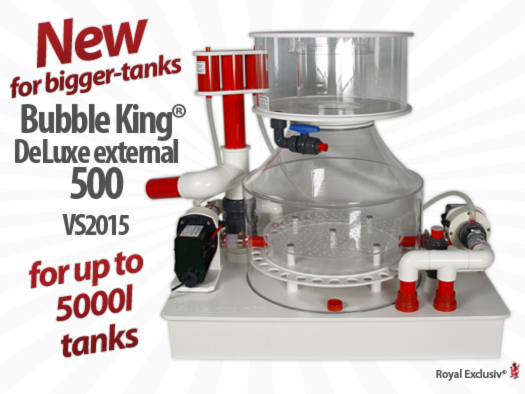 ---

We thanks our customers for your loyalty and the support on Facebook!
---

We produce our protein skimmers, pumps and Dreambox filter systems exclusively in Germany.
---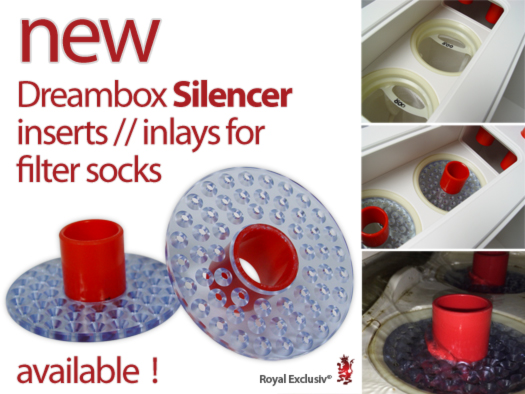 You want your Dreambox« even quieter than quiet? Dreambox« Silencer Filter inlays are available @ our Shop. Here a Video of the function.
---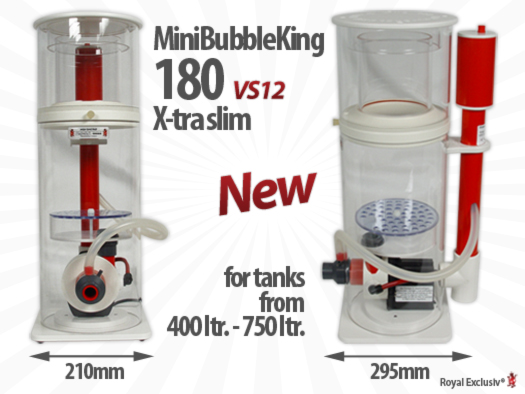 Now, our already perfect MiniBubbleKing180 skimmer available in the extra slim version.
---

Yes, the Red Dragon« 3 with 80W is Apex ready.
---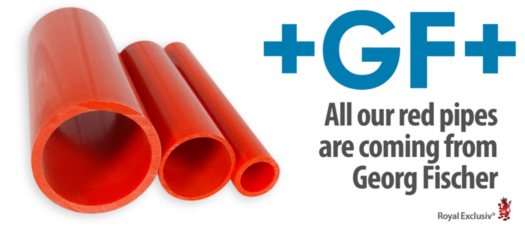 Our red PVC pipes in differ sizes will be found here.
---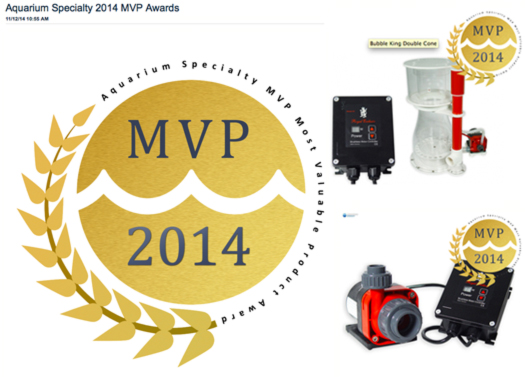 Aquarium Specialty is pleased to announce it's 2nd Annual Most Valuable Product (MVP) Awards.
---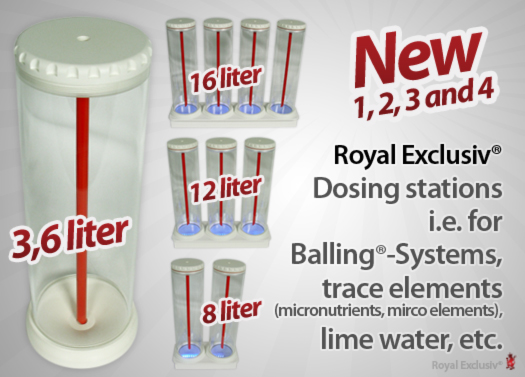 New: Dosing stations for the use of trace elements, Balling« Systems, lime water etc.
---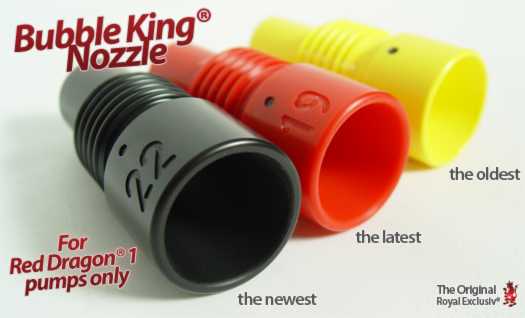 We want to inform that the color of the nozzles of Red Dragon« 1 Bubble King« skimmer-pumps will be change in the future. The function, the quality and material remains, only the color is changes.
---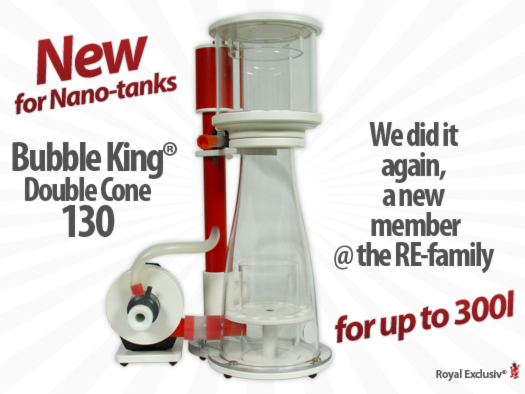 We are proudly present our newest family member, the Bubble King« Double Cone 130.
Ideal for Nano-tanks up to 300l. Usually known RE-quality also for "the little ones".
---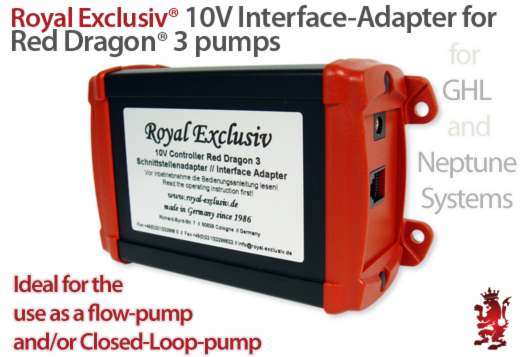 We want to introduce the 10V Interface-adapter. Ideal for the connection of a Red Dragon« 3 on a aquarien-computer i.e. from GHL or Neptune Systems!
---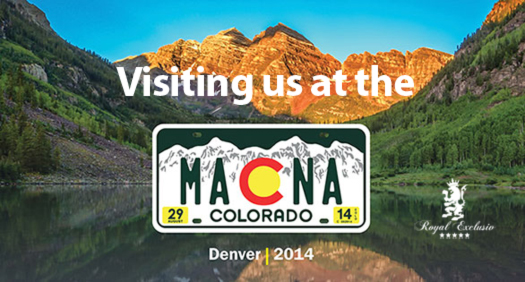 Royal Exclusiv USA at the MACNA in Denver!
---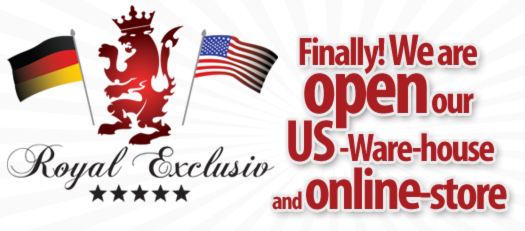 ---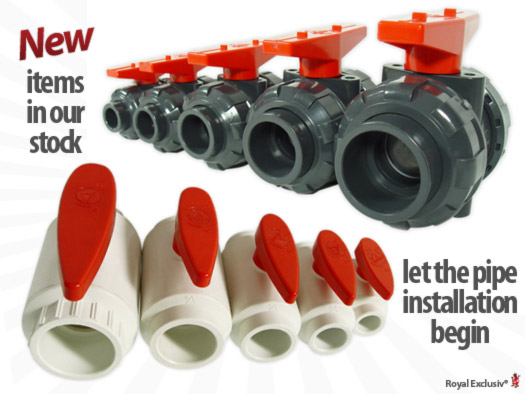 ---
---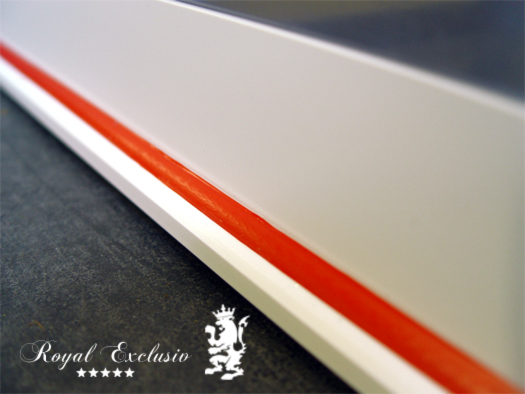 All Dreamboxes are available with red seam welds, now.
---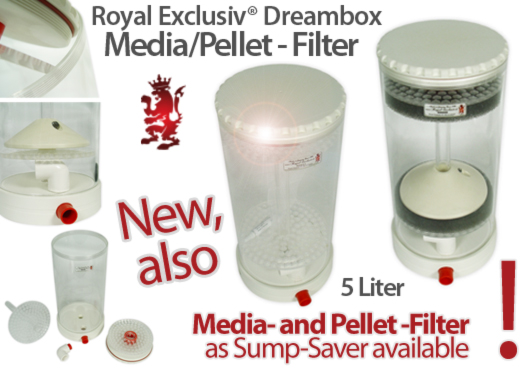 The new 5-Liter model of the Media-filters // Pellet-filters as SumpSaver version is available now!
---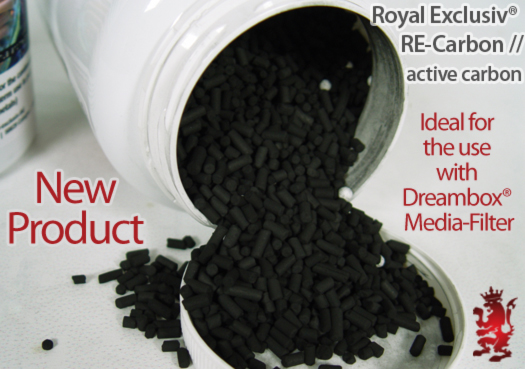 Now RE-Carbon//active carbon in a recloseable dosing box suitable and ideal for our Media-filter.
---
---


For all who don´t know, we have a own manufacturer-board by one of the biggest german-speaking marine-water-forums. www.meerwasserforum.info
---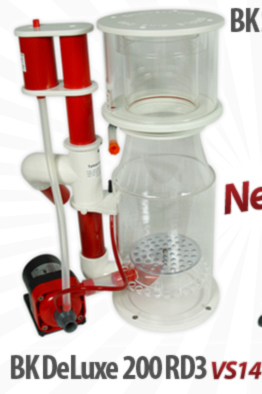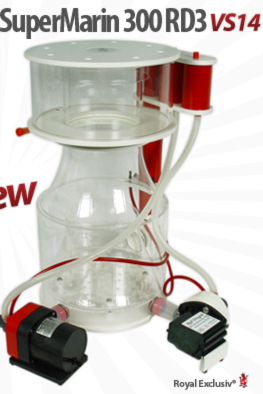 Bubble King« DeLuxe 200 with RD3 and Bubble King« SuperMarin 300 with RD3 in look of 2014!
---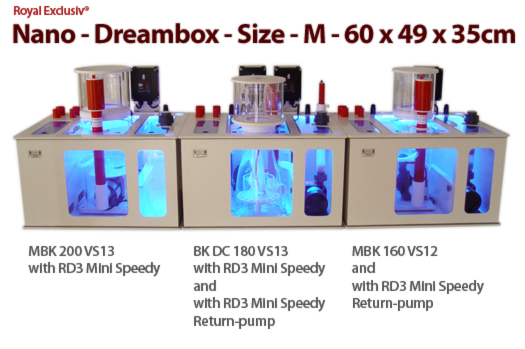 ---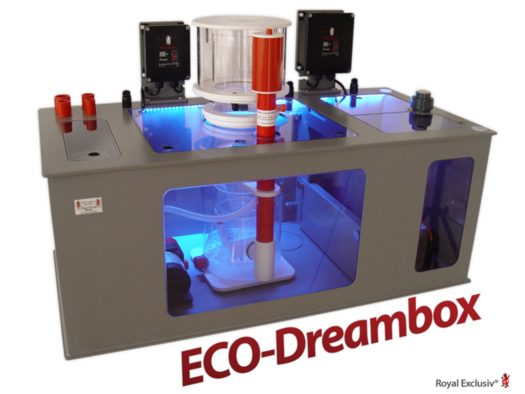 New: The ECO-Dreambox« from Royal Exclusiv«. Click
available also in many different sizes and inverted
all ECO-Dreamboxes are 40cm height for more volume
only one filter row, regardless of size to become more space in the skimmer-/ return chamber
complete in grey, also the cable holder and controller holder available in grey
Here is the ECO Dreamboxes_overview_list.pdf of all available sizes.
---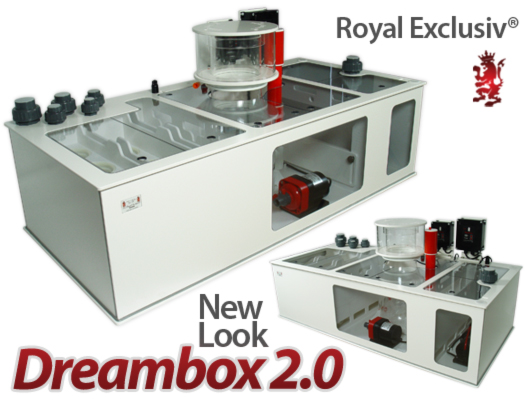 Now, all newly produced Dreamboxes look somewhat prettier.
We want to introduce the Royal Exclusiv« Dreambox« 2.0.
---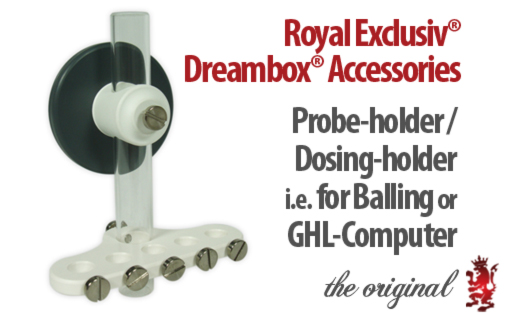 We have new Dreambox-Accessories! Probe-/Dosing-holder to glue into the Dreambox«. Click
---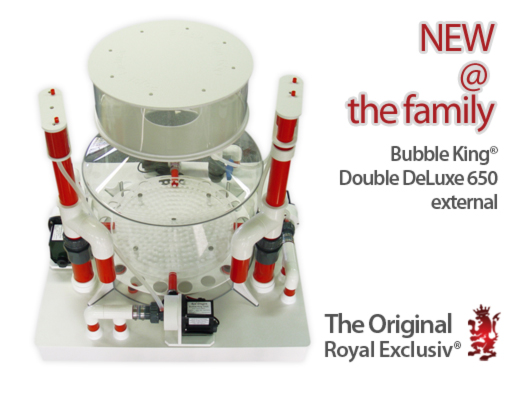 And again, a new skimmer model from RE. Click
---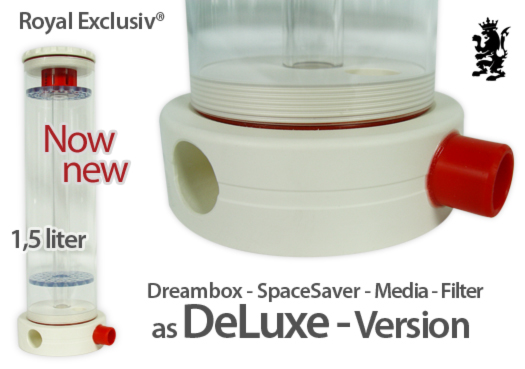 1,5 l Media-filter is now available as a DeLuxe version with fine thread above and below, for a better handling and cleaning. Available as a Media-filter and Pellet-filter. 2Liter-version coming soon!
---
---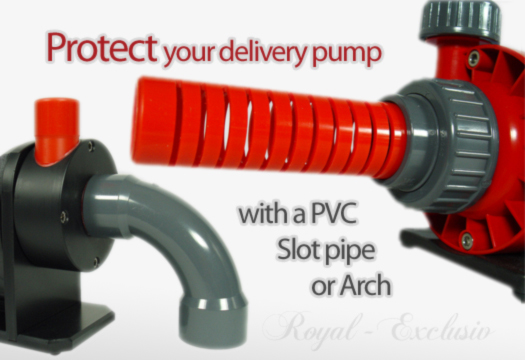 Protect your pump and thus extend the life. Go to the products.
---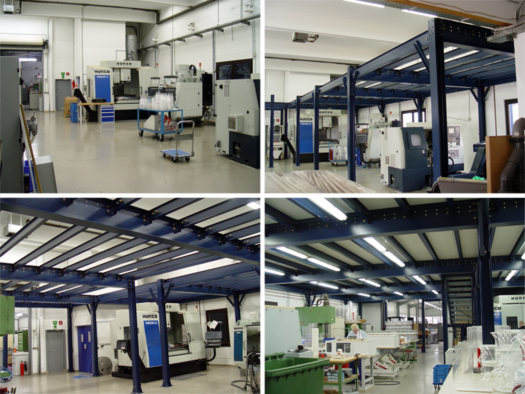 We finished the reconstruction in our factory hall and producing busy again. Take a look to the whole reconstruction. Click
---
---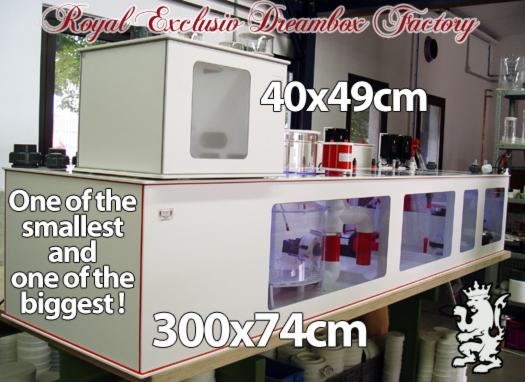 One of the bigger and one of the smaller one at our program! More pictures >>>
---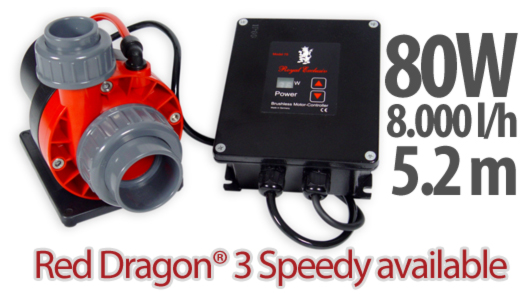 Now, on stock 230V/50-60Hz and 110V/50-60Hz. Click
---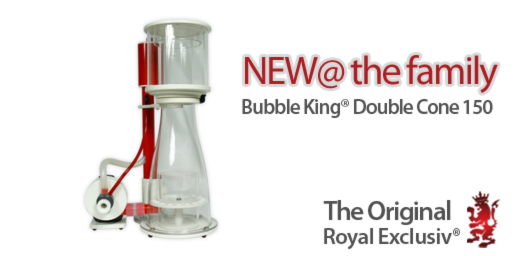 Yes we did it. Click
---


How it work a Dreambox-Complete-System or the Dreambox in detail! Click
---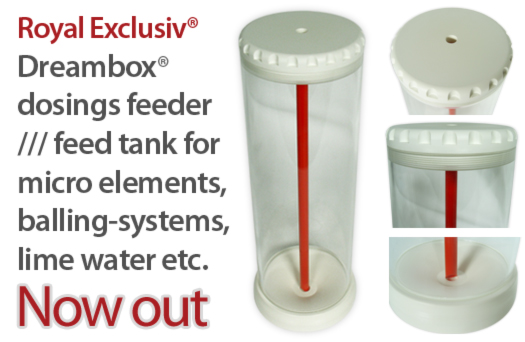 Now we have a dosing tank on sale. Especially suitable for trace elements, Balling systems and lime water. Guaranteed residual drainage!
---



Shortly before the end of the year, we need to increase our prices by 5%. Steadily rising material prices are forcing us to take this step, long time we tried this step to delay. Buy now more quickly to the old price!
---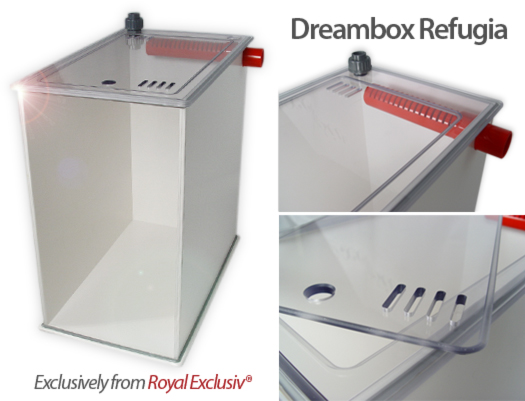 ---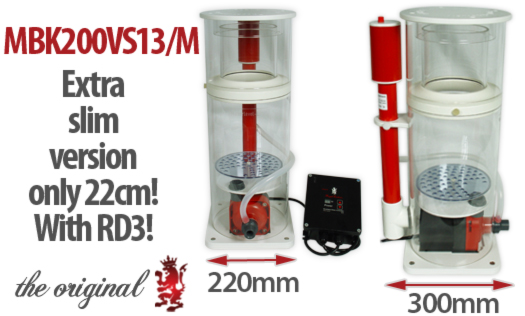 ---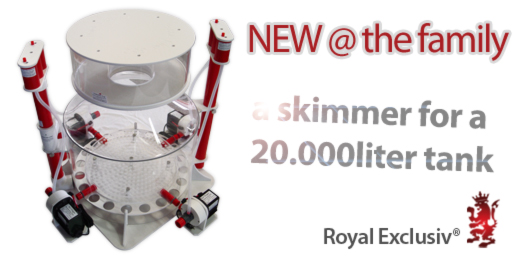 We have a new member at the Bubble King« DeLuxe internal skimmer-familiy.
---


We have visited the MACNA2013 in Florida.
---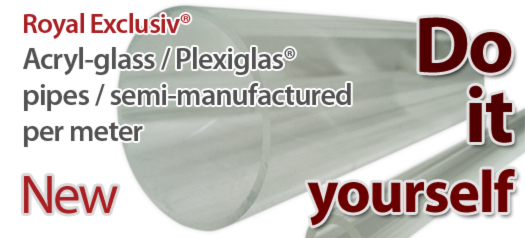 Do it yourself! Acryl-glas/Plexiglas« pipes as semifinished products, available exclusively at RE.
---

We need space in the warehouse! Go to the special offers!
---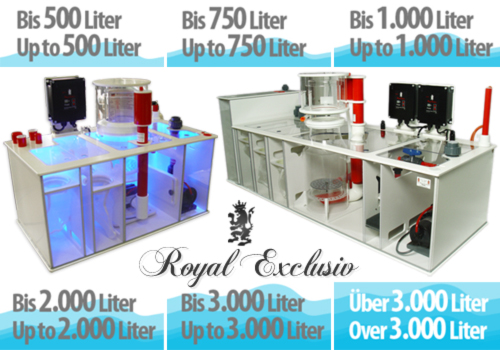 Choose your individual complete - filter - system, suitable for your tank. With Royal Exclusiv« Dreambox, Bubble King« skimmer and Red Dragon« delivery pump.
---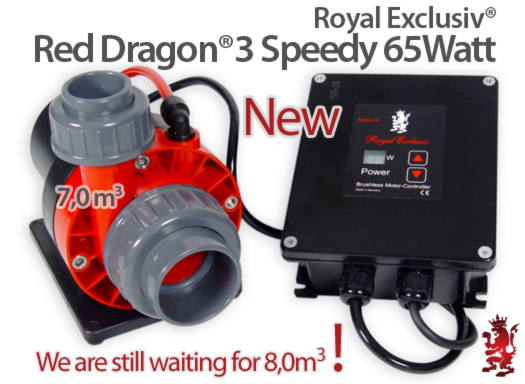 We are still waiting for the 8,0m3! In the meantime we could offer a Red Dragon« 3 with 65Watt.
---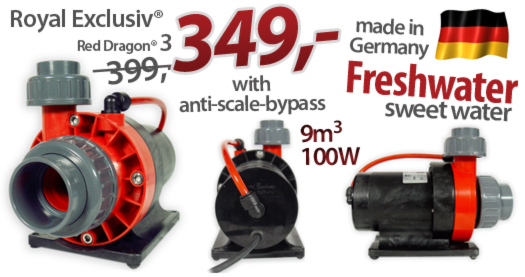 A special spring offer. Red Dragon« 3 Freshwater 100Watt made in Germany for a fabulous prices in Royal Exclusiv« quality.
---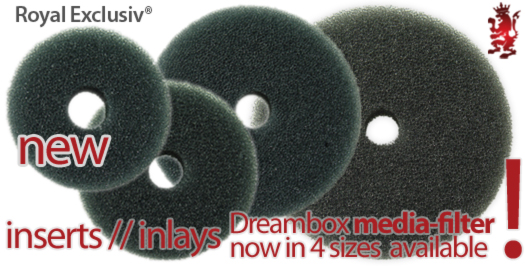 For all 4 media filter size (ě 80-100-125-150mm) there are now sea water resistant filter inserts.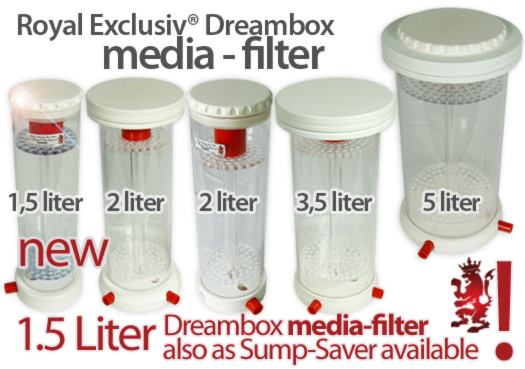 Now, the Royal Exclusiv media filter family is almost complete! // ě 80-100-125-150mm.
---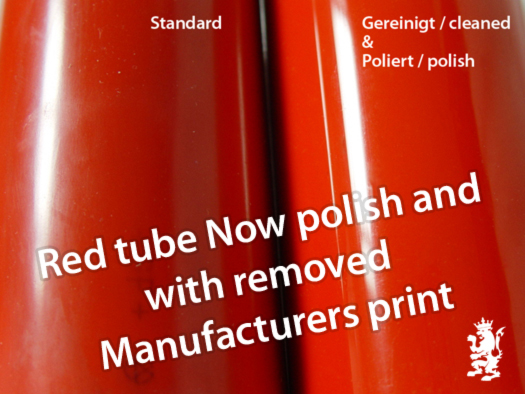 Our Red PVC pipe/tube is now also available with polished and with manufacturers print away. If it should look really nice in the equipment cabinet.
---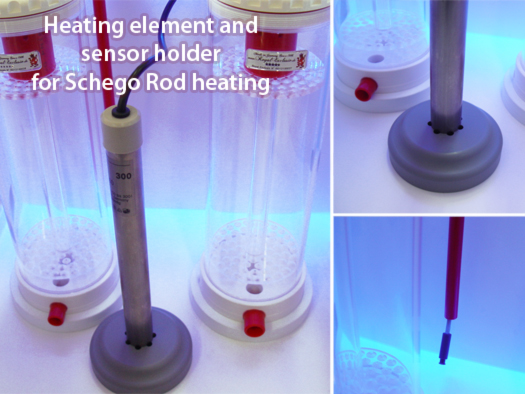 Now new! Holder for Schego heater Rod / heating element with ě25mm. Can be used universally. No problem anymore to fix the heating element or the sensor. For direct installation in the Dreambox.
---
In addition to our salt water program, we offer now also an submersible Red Dragon« 3 freshwater/ sweet water pump with 100 watt and one externally performing Red Dragon« 4 Dreamliner/Super- Flow in various wattages. Both pumps are energy savers and the Red Dragon« 4 Dreamliner/ SuperFlow features via a network interface the thus various settings and control offers.
---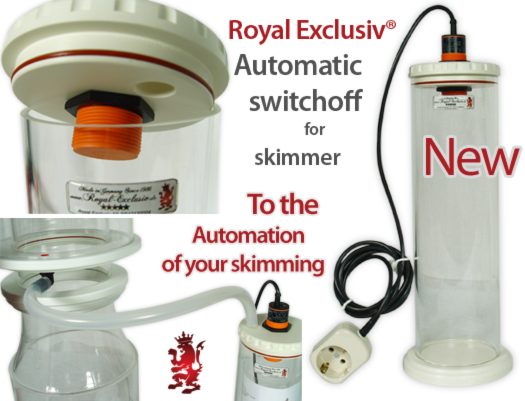 For the automation of your skimming, the automatic switchoff with capacitive sensor and power outlet. Also for third party skimmer can be used. Look here.
---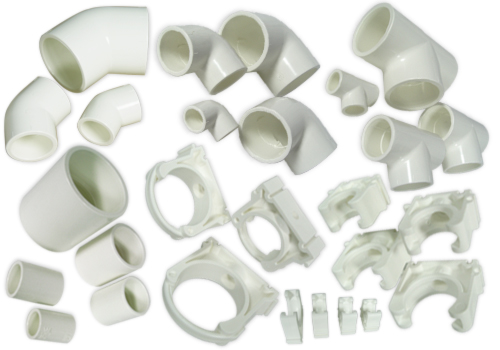 We have extended our white fitting range.
In addition to the already entered tees, 45░, and the 90░ bows we recorded now also pipe clamps and sockets to the pipe extension in our offer. Look!
---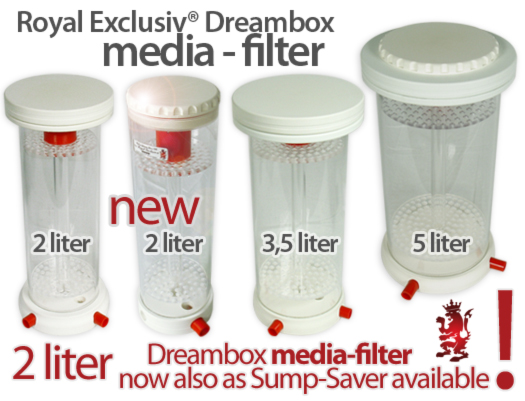 2 liter media-filter available in the space-saving Variant!
In addition to the already available 100 mm, 125 mm and 150 mm versions, a space saver been added now: a inside thread make it possible to reduce the dimensions of the media filter 100 mm - 2-liter again and thus create more space in the filter tank.
---
Create your individual filter set and save.
Choose the size of your desired Dreambox, a suitable Protein skimmer and a return pump.
We give 7.5% discount on everything together in buying a set. We will gladly to advise you, just send us an email. We provide you with an individual offer.
---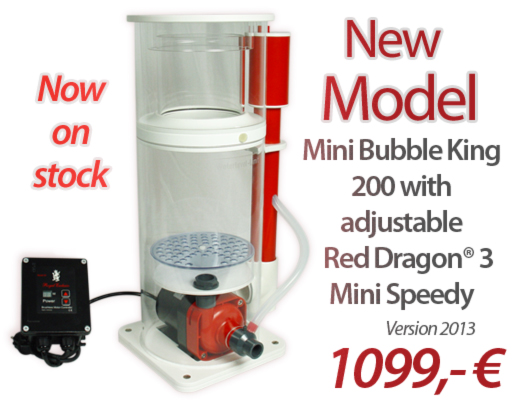 The new Mini Bubble King 200 VS2013 now available with adjustable Red Dragon« 3 mini speedy pump 50 watt up to max. 1500 l / h air intake and up to max. 3000 l / h water intake. For aquariums up to 1000 litres. Get it & Act now!
---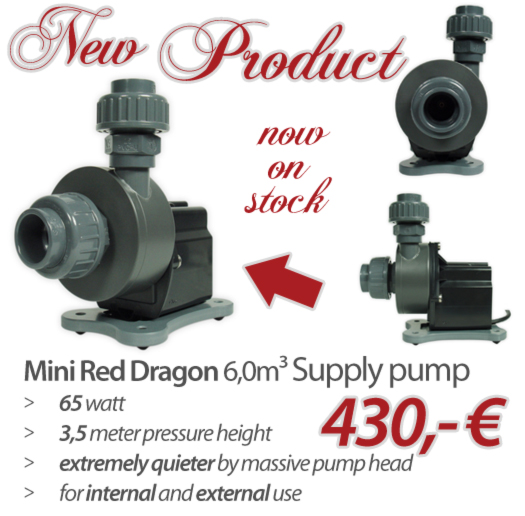 ---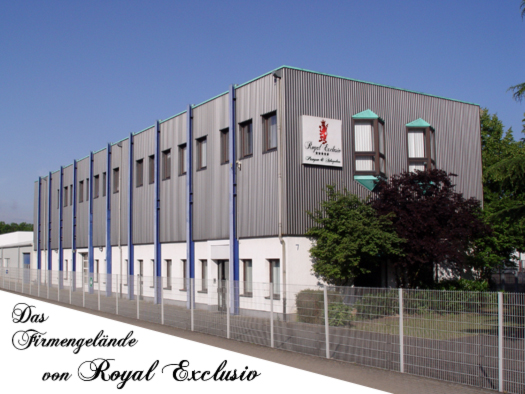 The Royal Exclusiv « company is headquartered in the north of Cologne and specialises in the production of pumps, protein skimmers and high-quality filter plants for aquaria.
It all started in 1986 with the production of exclusive and high-quality complete systems. The workshop is backed by over 30 years of experience in fresh and salt water aquaria construction.
Royal Exclusiv« produces premium products of the highest quality. Long-term testing and inspection phases in the inhouse lab are carried out prior to production. These quality standards have turned Royal Exclusiv« into what it is today.
For more information on Royal Exclusiv« please click here.